Now that you know the global communications strategy—build trust and goodwill for health workers by humanizing them in all of our communications—our communications goal is to use this strategy to make the interaction – at the door, health center, or transit point – as easy as possible for caregivers and our health workers. To do this, we need to present health workers as trustworthy, admirable, compassionate, helpful, and professional across all of the touch points and caregiver-targeted messages.
To organize communications across touch points, it is useful to create a structured journey. This journey was created using both empirical findings and the framework of the Theory of Reasoned action (TRA).
TRA focuses on an individual's intent to perform a specific behavior, such as the intent to vaccinate, and how attitudes and societal norms contribute to this intent. It zeroes in on the gap between behavioural intention and actual behavior.
The journey below is composed of touch points that influence a caregiver's intent to vaccinate their child. Communicating effectively across all touch points will increase a caregiver's intent and, ultimately, increase the likelihood of success.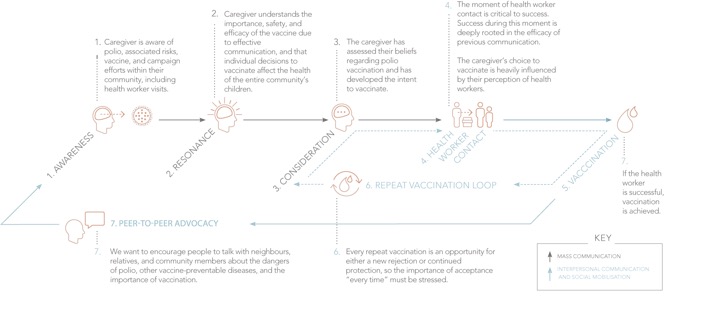 The Decision to Vaccinate
A caregiver's decision to vaccinate his or her children is about more than only their interaction with a vaccinator. It is influenced by several interdependent factors:
Their awareness and understanding of the disease, including its symptoms and disease traits—highly contagious between children, incurable, and preventable by the vaccine

Their awareness and understanding of the polio vaccine, such as knowing that the vaccine is safe, easy and painless, conveniently available in the safety of one's home, and protective of the entire community from polio in addition to one's own children

The perception of polio vaccination among neighbors, peers, and leaders

Their trust, respect, and openness to health workers who come to their community and home
These factors build upon each other and the absence of one or more of these factors increases the caregiver's uncertainty about the decision to vaccinate. Increased uncertainty among caregivers increases the burden put on our health workers, who must persuade uncertain caregivers to make the right choice.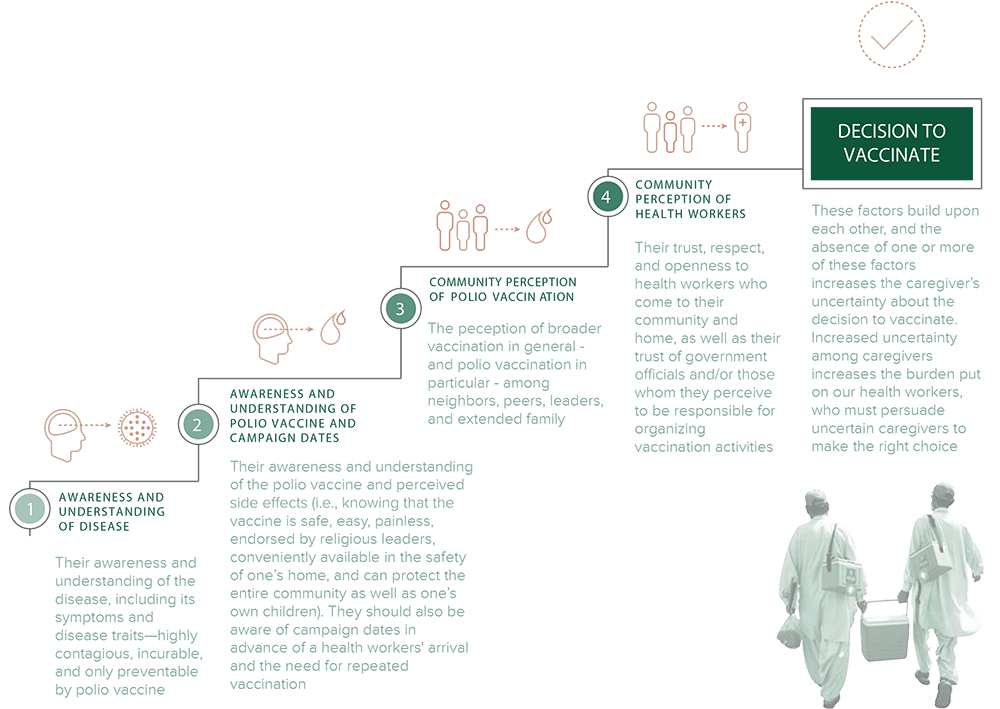 Awareness
Awareness is when the caregiver is aware of polio, the associated risks, the vaccine, and campaign efforts within their community, including health worker visits.
Resonance
Resonance is when the caregiver understands the importance, safety, and efficacy of the vaccine due to effective communications that resonate on a rational, emotional, and social level. They also understand that individual decisions to vaccinate effect the health of the entire community's children.
Consideration
Consideration is when the caregiver has assessed their beliefs regarding polio vaccination and has developed the intent to vaccinate.
Health Worker Contact
Across every journey, the moment of health worker contact is critical to success.
All of the awareness and intent created by social norm communications early in the journey can affect the chance of success during this moment.
In particular, the caregiver's choice to vaccinate is heavily influenced by their perception of health workers. Caregivers will be more likely to vaccinate their child if they perceive health workers as honest, moral individuals. For more information regarding the perception of health workers refer to Guiding Principle Two on pg. XX.
Vaccination
If the health worker is successful, vaccination is achieved.
Repeat Vaccination
Every repeat vaccination is an opportunity for either a new rejection or continued protection, so the importance of acceptance 'every time' must be stressed.
Social Mobilization and Advocacy
We want to encourage people to talk with neighbors, relatives, and community members about the dangers of polio, other vaccine preventable diseases, and the importance of vaccination. Advocacy is an essential measure of our success within a community and the goal is to increase and sustain the perception that vaccination is popular and accepted, and that working as a vaccinator is admirable.
Learn more
Explore the other two learning modules in this 3-step tutorial to design evidence-driven communication strategies to help vaccinate every child. 
Define your target audience and barriers to change, then develop messages and choose channels to reach your audience.
You cannot do everything and your ability to prioritize your interventions and target behaviours is paramount. One simple way to do this is to evaluate importance of the behavior and its changeability.